Artificial Intelligence is a new technology in science that helps in a wide range of applications and can help in various ways including customer service, manufacturing, enhancing efficiency, and accuracy. Amazon Alexa, Siri, and Google Assistant are famous AI systems that have made significant contributions to various fields and impacted our lives.
But at the same time, a debate arises 'can artificial intelligence replace human intelligence' or not. Movies like Robot, The Matrix, and Mother Android are examples of those movies that give a clear picture of how artificial intelligence affect and will affect society, morality, and humankind's experiences.
Digital Chaabi has entered into this great debate of this era as we can't see any tech minds staying in confusion. Nowadays many such AI applications work quite well with more accuracy, faster speed, and better efficiency than human beings.
However, we already know that human intelligence does not require any pre-feed data but AI needs this. This again raises the question of whether artificial intelligence can replace human intelligence or not. 
How can Artificial intelligence replace human intelligence?
According to our perspective, the answer to "can artificial intelligence replace human intelligence" is that AI is very clever and fast too, but it can never overtake the human brain. Our brain is more advanced & creative than AI applications as we learn through formal schooling, life experiences, social interactions, and other sources. 
Depending on a person's interests and objectives, many ways may be utilized to gain knowledge and for this reason, man separates himself from AI systems and digital machines. AI can improve our lives in a variety of ways, from education to healthcare.
AI can improve our lives in a variety of ways, from education to healthcare, check the graph below to know the forecasted global artificial intelligence revenue, it clearly depicts the future of AI.
The development, regulation, and social integration of AI will have a significant impact on how it affects human minds and hearts. It also raises issues with ethics, privacy, and the well-being of society and the economy. Finding a balance between using AI to its full potential and minimizing its drawbacks is a challenging task.
Failures of Artificial Intelligence
AI is an advanced and smart application but its disadvantages are also quite high.
Several AI applications used for criminal justice, including predictive policing, are currently under investigation for maintaining prejudice and discrimination against minority communities.

Social media networks' AI algorithms are regularly criticized for encouraging false information and inflammatory material. These algorithms might create false media news and online hate growth.

It was discovered that some AI-based systems have far higher gender categorization error rates for people with darker skin tones, raising issues about discriminatory treatment and misidentification.
These examples highlight that these AI systems are not entirely safe and they need improvement. Addressing these flaws and benefits of AI society requires changes like constant study, openness, and ethical principles.
Benefits of Human Intelligence
Human intelligence is miscellaneous and complex. There are different kinds of Human intelligence (HI), but emotional and creative are the most powerful ones. The human brain has a remarkable capacity for contextual understanding, making sense of divergent data, and adjusting to new information.
Artificial intelligence (AI) uses deep learning and generally lacks this contextual awareness and may struggle with unstructured data. There are more benefits of human intelligence than the benefits of Artificial intelligence. 
Artificial Intelligence vs. Human Intelligence
Human intelligence is developed from the human brain, which is the only complex organ in the body that controls emotions, memories, and every function that regulates the human body.

Whereas artificial intelligence is a human-made form of intelligence that is presented by machines such as robots, computers, etc. through coding and algorithms.

Humans have emotions and social understanding, they easily manage situations. This is one of the benefits of human intelligence. While artificial intelligence lacks emotional understanding. AI tries to pretend but has never experienced emotional understanding.

Human intelligence is very creative, it can find new things and methods on its own. While artificial intelligence can be done only with as much information as is fed into it.
So asking "Can Artificial Intelligence Replace Human Intelligence" is not fair, as it downgrades our human capabilities. However, it may be replaced in future, who knows? Now, let's find out the reasons why it can and cannot replace human intelligence!
Reasons why artificial intelligence can and cannot replace human intelligence
Firstly, we should start with how can artificial intelligence replace human intelligence:
1. Data analysis
Artificial intelligence can calculate a lot of vast data in seconds, and its calculation tendency is more accurate than human calculations. This is one of the best benefits of Artificial intelligence and one of the biggest factors that leads to human intelligence replacement. 
2. Language Translation
Artificial intelligence can easily translate to the language of any country. It breaks down communication barriers between the society and we can easily communicate with anyone.
3. Repetitive tasks
Artificial intelligence can do many repetitive tasks and calculations simultaneously, which saves human time. So, this is also the reason that can become the solid answer to the question: How can artificial intelligence replace human intelligence?
Moving on with the good side, here we will count the reasons that can provide relief to the whole human society.
1. Lack of emotional intelligence
Humans contain emotional intelligence naturally but AI is designed in such a way that it can respond and pretend to human emotions, but in actuality, there are no genuine emotions in Artificial intelligence.
2. Creativity is limited in AI
The human brain is a body organ and can generate more ideas than any machine. Human intelligence can relate two different things easily and connect them but AI has only limited data which tells limited information.
3. Human creates AI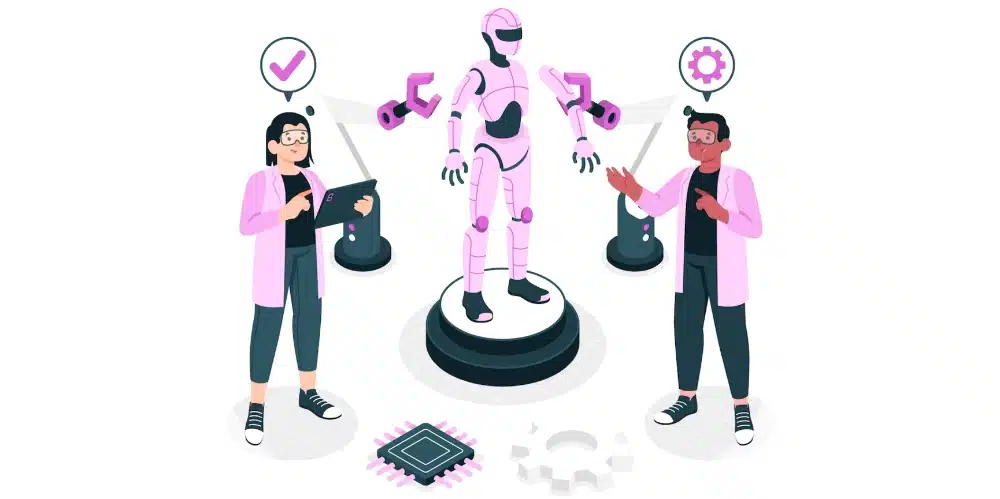 Humans are the only ones who create artificial intelligence, which means human intelligence is the origin of artificial intelligence. Whatever data is fed into artificial intelligence, in a way comes directly from human intelligence. This is calculated in the benefits of human intelligence.
Conclusion
AI is a man-made form of intelligence and it can never replace human intelligence because all the data is fed by humans that's why it is not smarter than human intelligence. Although Artificial intelligence is much faster than human intelligence, it can do many calculations simultaneously but it is not as creative as human intelligence.
So the answer to "Can artificial intelligence replace human intelligence" is no, Artificial intelligence can never replace human intelligence.
Frequently Asked Questions on Can Artificial Intelligence Replace Human Intelligence
1. Can Artificial Intelligence replace human intelligence? Why and how?
According to our research, it is not possible that AI can replace human intelligence, as it relies on pre-programmed algorithms which clearly says that it doesn't have creative ability. Further, AI doesn't have emotional intelligence like human beings, so it can understand any human emotions and feelings. 
2. Can AI be more intelligent than humans?
Artificial Intelligence has come a long way and is trying its best to beat human intelligence in every arena. By now it is seen that it is better in strategy games like StarCraft, and Diplomacy and also knows multiple languages. In short, it has automated our lives and daily tasks of humans like writing assignments, essays and more. 
3. What are the benefits of AI?
Make daily tasks easier and more efficient

Reduce the manual work 

Saves time through automation

Data analysis

Assistance in fields like medicine, education and business

.
4 What is the future of artificial intelligence?
Artificial intelligence is becoming more efficient day by day and leads to an increase in the productivity of any business or company. Though it is a threat to human society, on the good side it is reducing the human workload and in future, it will be a more tedious task. 
5. How will AI improve our lives?
AI has eased human beings' lives as it assists in doing every task by just sitting at home and saves a lot of time. Most of the problems that couldn't be solved without AI have helped a lot. For instance, in the medical field, complex disease diagnoses have become simpler, thus it is also saving the lives of many.