If you provide the best healthcare service to the patients and deserve great recognition but you are not able to achieve it. Then the main factor can be the lack of proper marketing. Sticking to old and traditional marketing ways like brochures and advertising boards is not sufficient today. According to the data, more than 60% of people search online for doctor consultations. 
Therefore, it is important to increase the online presence of your hospital services. Through digital marketing for hospital and healthcare business, you can promote your healthcare business to more people who are seeking health consultations online or want to visit the clinic or hospital. 
After the covid period, people have got quite conscious about their health and prefer doctor consultations. During the covid period, people used to seek online healthcare services frequently which helps in the growth of healthcare businesses. So, you may be quite familiar with healthcare digital marketing. Even if you are not, don't worry we are here to guide you in how to do digital marketing for hospitals.
8 Ideas for Digital marketing for Hospital and Healthcare Business 
1. Creating an Attractive Website
Digital marketing for hospital and healthcare business is nothing without a responsive website. The design, font, color, navigation, and content should be on point. Know your niche in the healthcare industry and design as per it. Your website should reflect your profession itself. 
Further, don't forget to own a mobile-friendly website as most of the searches come from mobile devices. So, you don't lose any potential patients. Add all the details like opening and closing hours and how can the patient take the appointment from the website. To own a fully mobile-optimized potential website talk to a hospital website designer like Digital Chaabi, the best hospital website design company in India. 
2. Content Management 
The next digital marketing in the list of hospital advertisement ideas is creating valuable content that has the potential to drive quality traffic. However, if you are in the healthcare industry then your objective should also be guiding and providing solutions to the visitors. Because not every person wants to visit you personally, some just want to know the answer by reading only. So, you can blog posts on-
Illness Symptoms 

What to do ___ illness

Tips for living a healthy life 

Nutritional diet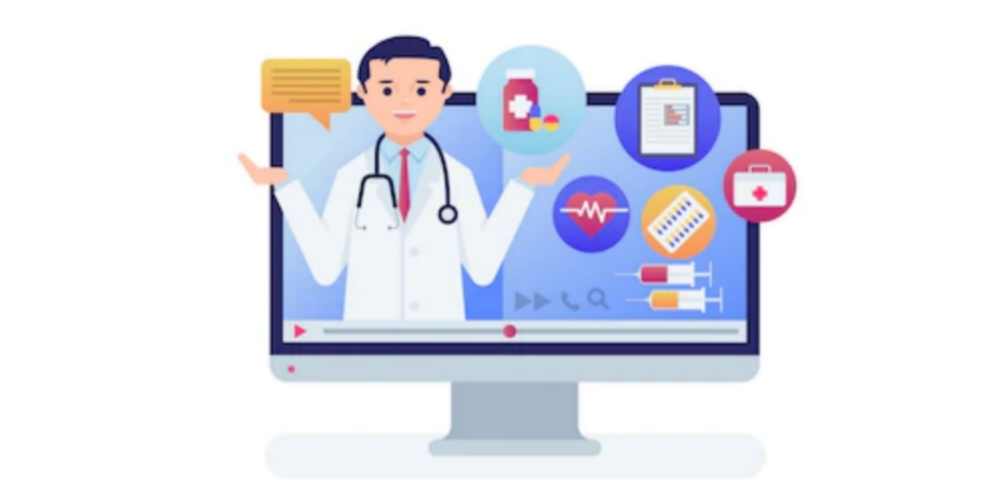 There can be numerous topics on which you can talk like an expert according to your profession. It is important to note, don't provide any personal opinion on health issues. The content should be well-researched, educative, and trustworthy. This is how you can earn a strong brand image in the healthcare industry. 
3. SEO for Hospitals and Healthcare 
You don't need to spend money always to grow your business, you can do it organically too by SEO. Search engine optimization boosts the traffic on your website. Moreover, it gives the best experience to users as it helps Google to take out the best content and place it on top. To make sure that users get the finest result. 
The user responds well on voice-search optimization, valuable content, easy navigation, loading speech, and more. All this can be improved through SEO for hospitals and healthcare. Also, local SEO boosts brand recognition and visibility in local areas. For this include relevant keywords like 'best healthcare clinic near me' or 'best healthcare and hospital in Delhi'. 
4. Social Media Marketing Strategy for Hospitals 
Social media platforms help in staying connected with previous clients and increase engagement. Patients do not always rely on Google results but they research well on social media too. So, post useful content, and create public awareness. Consequently, the trust and credibility you gain will build a strong brand image.
Social Media marketing strategy for hospitals keeps the users updated about timings and helps patients to read reviews about you. Besides, you can invest in paid ads to reach out to potential clients through this digital marketing for hospital and healthcare business. For instance, a nutritionist can target an audience who is looking for nutrition diet tips. Here is an example of social media marketing:
5. Pay Per Click Advertising 
The other way to increase web traffic is Pay Per Click ads, it is a fast tactic, unlike SEO. It just requires a budget and you are good to advertise yourself to the targeted audience. You can run PPC ads on Google as well as on social media platforms. 
Ads can be in the form of search, display, videos, and shopping. In this, digital marketing for hospital and healthcare business bid on the right keyword and get effective results. Keeping an eye on the PPC campaign and whether it is running properly or not is a difficult task. Therefore, you may get your work done by a healthcare digital marketing agency. 
6. Get Reviews
Getting feedback for your service is the most satisfactory moment and also an important part of digital marketing for hospital and healthcare business. It is beneficial for both customers and business too. Your hospital will earn credibility and for customers, it will be easy to decide the best one for them.
Further, never think about whether the reviews are negative or positive. Negative feedback also helps in building a real brand image because if you have only positive reviews it looks quite fake. Though, many bad reviews may lead to a decrease in the number of clients. 
So, it is important to analyze all the reviews on your website or social media accounts. Also, respond to every review regularly to showcase that you care about your patients.
7. Email Marketing 
Doesn't matter how old this digital marketing for hospital and healthcare business is. It always tops the list of maintaining a good relationship between the business and clients. Potential patients remain up-to-date about new doctors, and new cures and stay connected with your healthcare services. 
Decide by yourself how frequently you want to send newsletters weekly or monthly. Regular emails keep the users engaged and more likely to take your service in the future. You can look for readily available email templates also for better designs. 
8. Landing Pages 
Landing pages are great to make customers see your particular product or service. It is best to highlight the specific thing that remains unnoticed on the website. But you have to add a strong call to action so that visitors are compelled to go to the landing page. The chances of sales increases if visitors like the service you are providing.
You need to keep in mind that the landing page must include full information, offers, or discounts to attract customers. It moves the users to contact you or take an appointment. Consequently, more actions will take place on your website.
Conclusion 
Now everyone prefers to search on the internet about illness symptoms, diet, and more. If you want to keep up with the competition, then you need to enact digital marketing strategies that build and grow your business. After knowing the use of digital marketing in healthcare, and implementing it correctly. You can clearly see the difference in your business. 
Looking to hire digital marketing services for hospitals?
If you are running a healthcare and hospital business then you must consider looking for digital marketing services for hospitals. Digital Chaabi being the best digital marketing company for hospitals builds functional websites, provides the best SEO services for hospitals, works on strong social media marketing tactics, and much more. We maintain a patient-oriented website. 
Frequently Asked Questions on Digital Marketing for Hospital and Healthcare Business 
1. How to do digital marketing for hospital and healthcare business?
Create a decent website as per your niche.

Create useful and guiding content.

Post on social media platforms like Facebook, and Instagram.

Run PPC ads on Google or social media platforms.

Install AI-powered chatbots.

Keep an eye on reviews.
2. How to do social media marketing for hospitals?
Create social media accounts on Facebook, Instagram, and LinkedIn.

Regular blog posts to increase engagement.

Post useful content like illness symptoms, nutritional diet, and exercises. 

Add links to the website to increase web traffic. 

Run social media ads
3. How to do digital marketing for a clinic?
Create a useful website

Focus on content marketing

Optimize the website content for SEO

Use social media marketing strategy for hospitals

Do PPC advertising for faster conversion rates

Send emails to past patients
4. How can I promote my hospital?
Post SEO-optimized content to reach potential customers.

Make social media accounts and post regularly.

Upload useful content to add value to visitors' lives.

Promote through Pay Per Click advertising.

Promote and send updates to past patients through emails.
5. How do hospitals get more customers?
Hospitals can get more customers through digital marketing for healthcare and hospital business. Brands can follow digital marketing strategies like:
Creating a good mobile-friendly website.

Boost web traffic through Search Engine Optimization.

Run PPC ads campaigns

Install chatbots on the website.

Promote the business through social media marketing.

Chose email marketing to stay connected with past patients.
6. Why is digital marketing important in healthcare?
Digital marketing for hospital and healthcare business is important as it increases visibility and makes you more discoverable. Boost the brand image and trust-worthy, as a result, it gets easy to attract potential customers. The use of social media generates huge traffic and engagement.