Online marketing is not an easy task in such a competitive economy. However, top digital marketing tools made it quite manageable for starters.
Through digital marketing, you can identify the target audience, generate more engagement, can increase visibility, can retain potent customers, and whatnot. 
Therefore, every goal in business can be accomplished if you have the right digital strategy and the best digital marketing tools. We have made a detailed list of digital marketing tools that you will need when starting a business.
It's a need of an hour to be aware of modern tools and technologies that how businesses grow in today's world.
We have broadly categorized digital marketing tools into six types: Content Marketing tools, Design tools, Search Engine Optimization tools, Social media platforms tools, and Analytics tools, and Email marketing tools.

So, we have enlisted 8 top digital marketing tools in India by keeping the broad classification of digital marketing tools in mind. Let's dive into it!
1. HubSpot 
HubSpot software counts in top digital marketing tools as it gives access to numerous tools. Includes blogging, SEO, social media, landing pages, lead management, analytics, and more.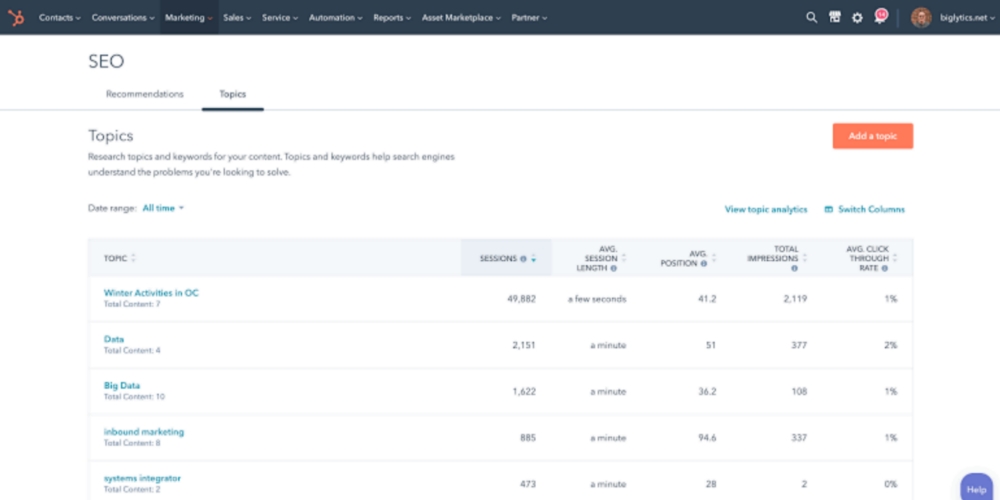 That's the reason it is called all-in-one marketing software. It has become the top choice for beginners who are tight on budget.
Hubspot price:
It offers three plans: Starter, Professional, and Enterprise. The starter for $45 per month. And, the Professional and Enterprise are for $800 and $3,200 per month respectively.
2.  Hootsuite
In digital marketing, social media marketing plays an important role. So, the 'Hootsuite' is made to do the task of social media marketing effectively.
You can schedule posts on your social media platforms and also review your post in calendar view. Therefore, it saves a lot of time to schedule a post in one place.
Further, Hootsuite will keep you up-to-date about the latest social trends. So you can respond to them quickly. Additionally, it shows you top-performing content and gives brief insights on the social analytics dashboard. 
Hoot suite price:
It comes with four plans: Professional, Team, Business, and Enterprise. If you are a beginner, try for Professional and Team as it offers a 30-day free trial. 
The professional plan is at ₹1260 per month. It has core features plus two additional features.

The team plan is at ₹6600 per month. It also includes all core features but four additional features.

Business is at ₹45000 per month. Through this, you can manage more than 35 social accounts. 

With the Enterprise plan, users can manage 50+ social accounts with all unlimited features. It has custom pricing. 
3.  SEMrush
SEMrush is a tool that can help marketers in several ways. Therefore, you can call it an all-in-one tool for SEO. It can assist you in optimizing SEO, keyword research, competitive research, content marketing, PPC, SMM. Also in content marketing, competitor analysis, and campaign marketing.
SEMrush, one of the top digital marketing tools in India enables users to measure website online visibility, enhance brand or website visibility and lastly make a report of the result of the efforts you have put in.
SEMrush price: 
It offers trials for 7 days with limited functions. After that, you can choose one of their three subscription plans: Pro, Guru, and Business. 
Pro plan is basically for users that are new to SEO and also for small in-house teams. Its pricing is $120 per month.

Guru can also be chosen if you are new or want to take a SEMrush trial. However, it offers extra features than Pro. It is for $230 per month.

A Business plan comes with every feature that any large marketing agency needs. It's for $450 per month.
4.  Google Analytics 
Google Analytics is one of the best google digital marketing tools and free digital marketing tools 2021. Whether you are a starter or a professional, analytics is the foundation to know your business growth.
Using this tool, you can analyze and track your traffic. So you make changes in your campaign or strategy if something is not working well for your business. 
5.  Google Keyword Planner
Google Keyword Planner is one of the top digital marketing tools for researching the strong keyword for your business blog. Eventually, it helps to get PPC campaigns off to a running start. In short, it boosts your keyword research game.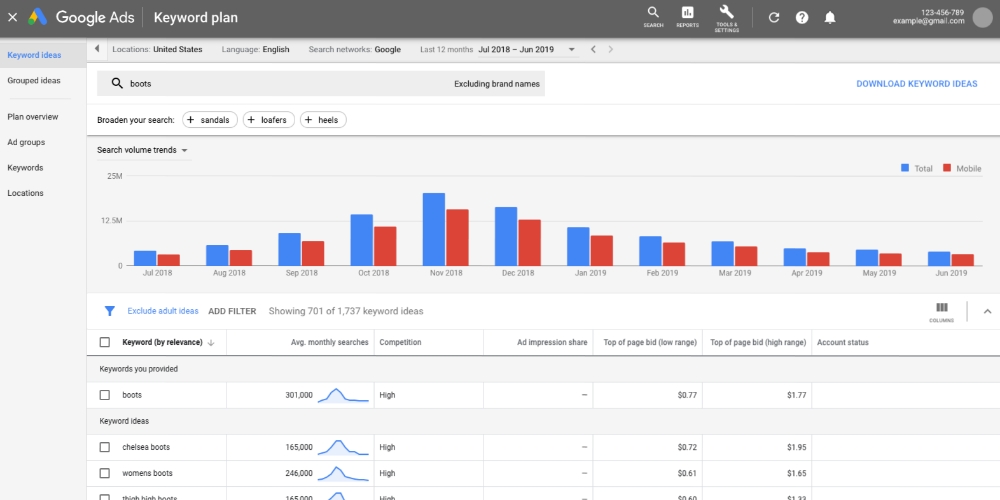 Besides, it assists in choosing competitive bids and budgets to use in campaigns. It offers four options: Search for new keywords; Multiple keyword lists; Get search volume and trends; Get click and cost performance forecasts. You can use any as per your preference.
It is a free keyword research tool. You just have to create a Google Ads account and you can access it. Therefore it is among the top choice for starters, as it is within budget and provides a complete solution for keyword research. 
6.  Canva Business
When you start a business, you don't want to leave any stone unturned. You want everything to be flawless and noticeable. Therefore, to make your logos, images, graphs presentable, Canva Business is the best choice. 
In its Canva catalog, it has an image collection, icons, shapes, custom pictures, and fonts. So, within your budget, you can create designs according to your choice. 
Canva Business price:
It has three plans: Free, Pro and Enterprise. The Pro plan is at ₹499 per month with 14 days free trial. Enterprise comes with custom pricing. 
7.  All in One SEO Pack
Over 2 million installations have been done of the All in One SEO Pack. We have put it in top digital marketing tools 2021 as it is the best plugin for WordPress users. 
As the name suggests, it offers countless features to optimize your website content for search engines. Includes XML Sitemap support, automatic generation of META tags, advanced canonical URLs, and more.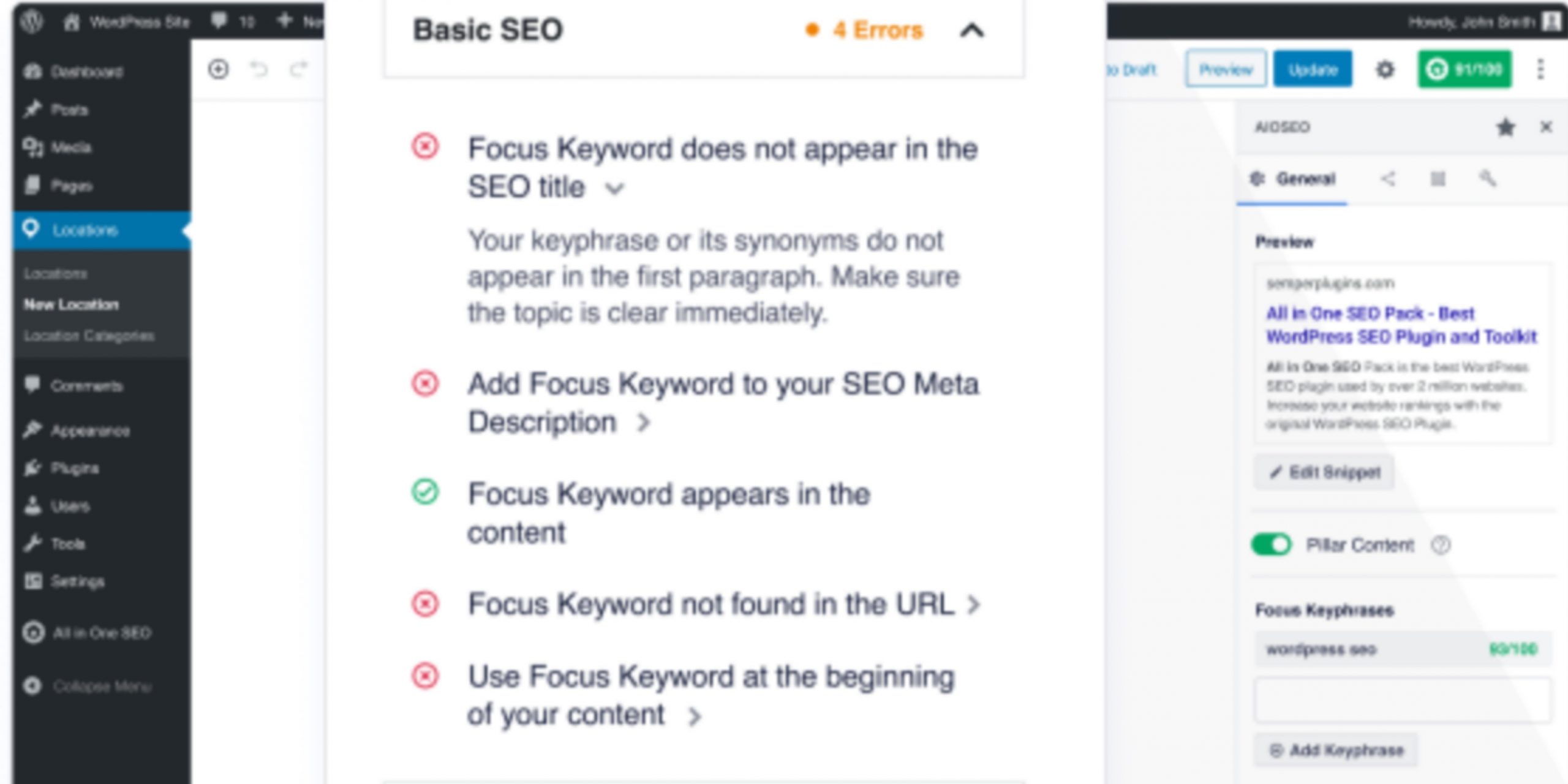 Moreover, it helps in fixing errors and making changes to increase click-through rates. As a result, it improves your website search rankings.
All-in-One SEO price:
It provides four subscription plans: Basic, Plus, Pro, and Elite. 'Basic' and 'Plus' are available at $49.50 and $99. 50 per year respectively. Whereas 'Pro' and 'Elite' start at $199.50 and $299.50 per year respectively. 
8.  MailChimp
To ease your task of email marketing this is one of the best digital marketing tools. From the start of the business, you should focus on email marketing strategy. 
Why MailChimp? Most businesses from small to big use email marketing. At the start, you can use this tool for free and then use the paid plan. 
Further, Mailchimp is no longer just an email marketing tool but also has become an all-in-one platform to provide the best service to beginners. It offers functions of social posting digital ads, unstoppable landing pages, smart content tools, etc. 
MailChimp Price:
It offers free and then three paid plans to users. Includes Essentials, standard, and Premium. Essentials and Standard start at ₹770 and ₹1150 respectively. Whereas premium comes with advanced features at ₹23000.
FAQ:
What are digital marketing tools?
To do tasks in between digital marketing such as researching keywords, optimizing SEO, building traffic, analysis, and more is done by digital marketing tools. Examples of some top digital marketing tools are Google Analytics, Adwords, MailChimp, etc.
What are the 5 digital tools?
Hubspot

Google Analytics

SEMrush

All in One SEO Pack

Canva Business
What is the best digital marketing tool?
For starters, free tools such as Google Analytics, MailChimp, Google keyword planner, Canva are best.
What are the 3 types of digital media?
Audios and videos

Podcasts

Advertisements
Which digital marketing tool is best?
Google Analytics, MailChimp, Google keyword planner, Canva are considered as best digital marketing tools. As they offer quite good features in free plans too.
What skills do you need for digital marketing?
In today's competitive world, to stand out as a digital marketer you need to learn and master some skills. Includes: Data Analysis, SEO, Content Creation, CRM, Social media, and Design skills. 
What are the 7 types of digital marketing?
Search Engine Optimization

Pay-per-click

Content Marketing

Email Marketing

Pay-per-click

Marketing analytics

Mobile marketing
What are the 5 promotional tools?
Advertising

Public relations

Direct marketing

Sales promotion

Authorship or referencing
What are the popular digital marketing tools?
SEMrush, Hubspot, Google Analytics, Mailchimp, Canva are some popular digital marketing tools.
What are the latest digital marketing tools?
The latest digital marketing tools are Hootsuite, HubSpot, BuzzSumo, SEMrush, Moz, and more.