The competition among interior designers has grown with the increase in demand for taking care of homes and workspaces in terms of their design, color, furniture, decoration, and such. After all, it adds value and makes the space more lively, and adds personalization. As people get more focused on it, businesses have no way left except choose digital marketing for interior designer.
But building a website, and having a social media presence is not enough. So, here Digital Chaabi will guide you in how you can promote your interior design business by incorporating a few strategies. 
Before jumping into how digital for interior designer can help to grow your business, let's know why you need it, why choose digital marketing over traditional marketing? 
Almost 97% of users search online before buying a product or using any service.
You can target your audience well.
Inexpensive and fulfilling long-term goals.
Build brand image and maintain its reputation.
Reach a larger audience and more probability of finding potential and quality customers.
Using the strategy at the right time, with the right amount is very important. Now, without further ado let's know the best 8 strategies of digital marketing for interior designer. 
8 Strategies of Digital Marketing for Interior Designer
1. Own an Appealing Website
It's a topmost priority to own a good website to attract visitors. For sure you have heard the phrase 'First impression is the last impression'. Your website design should be attractive, simple, easy to navigate, and filled with informational content.
Your business is all about design and if your website design, and content also catch the attention. Then it will surely create a great impression on visitors. Moreover, it will be more beneficial if your website operates on both desktop and mobile smoothly. In short, the website should be mobile-friendly. You can check here why building a mobile-responsive website is important.
2. Invest in Professional Photographer 
If customers want to contact you as their interior designer, they want to see your previous work first. So, decide your budget and hire a good photographer. Upload quality pictures and see the magic! Also, keep your niche in your mind to deliver a clear idea about your work, whether you work for commercial or private places.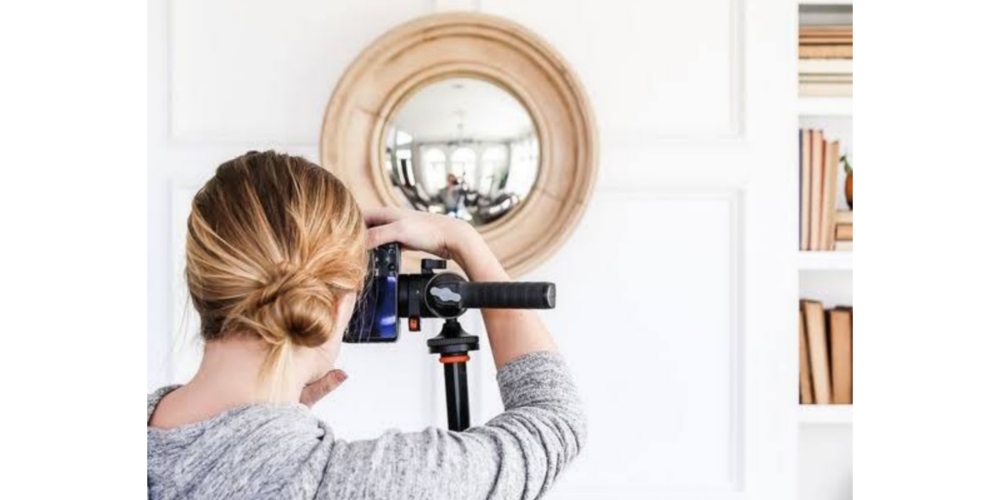 Further, this can be more advantageous as you can get featured in design magazines. Once you will be featured in the top magazine, for sure your talent will be around the corner. As a result, this digital marketing for interior designer is considered as a potent marketing tool. 
3. Blogging 
To let users know about you better, upload regular blogs. Add professional pictures and videos of your work to your blogs. Moreover, blogs are a powerful way to generate traffic to your website. Below are the ideas for blog content that were most popular last year. 
Know about your audience's interest then blog post to attract potential customers. Many businesses take help from companies for their content marketing, you can also contact us for your interior design blogging. 
4. Reach Target Audience Through SEO 
Search Engine Optimization (SEO) is not something to be ignored, it is the only one that stands you out in a world of numerous interior designers. So, this digital marketing for interior designer helps you in getting top-ranked on Google. Through interior design SEO, you can be on the top and become the most visited website. 
Who do you want to target? You can ace Interior designer SEO if you have this answer. You need to find strong and relevant keywords and use those in your blogging or content marketing. This way you will pave the way for the target audience and for yourself too by ranking on top search results. 
Most businesses search for experts to get interior design SEO. You can contact Digital Chaabi as it is one of the best interior seo service providers.
5. Be on Pinterest 
Among all the social media apps, Pinterest works as great digital marketing for interior designer for generating traffic on their websites. Pinterest has all the ideas, pictures, and videos in all genres. Therefore, create an account on Pinterest and upload all the best designs you have worked on.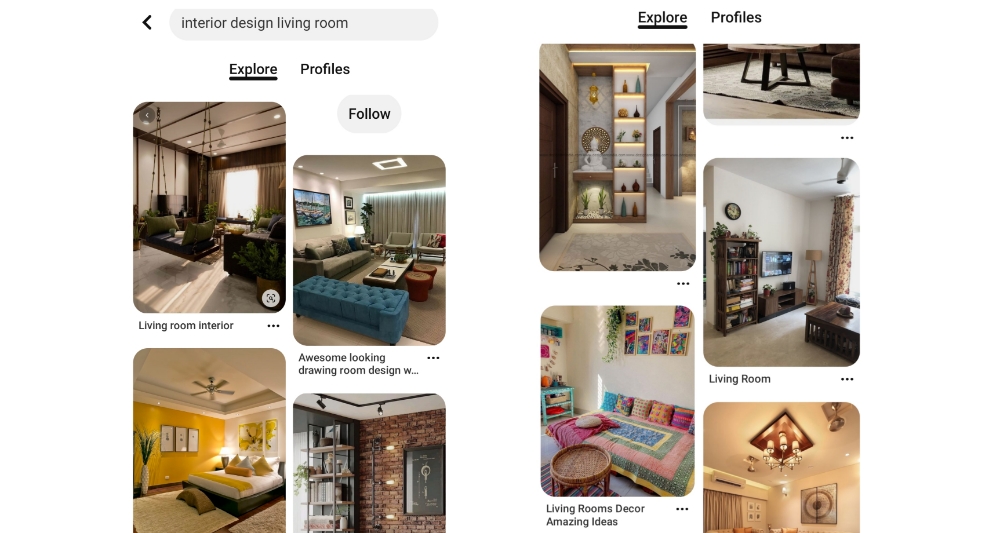 To increase your web traffic, and attract customers, you have to use relevant titles on the image you upload. You must have the knowledge of target customers that what they mostly search and what's trending. You can get your interior digital marketing done by the best interior social media service provider company.
6. Showcase your previous work and designs 
Customers are most likely to see previous projects before contacting you. Your past work will let the customers decide the best for them. Add the best designs to your portfolio and develop a genuine story around it. Again your work will turn into a blog post, but a case study helps in building a trustworthy relationship between you and your clients.
Further, writing designing steps or before and after pictures will make your content valuable. Also mention the names of your happy customers to make yourself credible. The amazing part of this digital marketing for interior designer is that you can kill two birds with one stone. In simpler words, you can convert your blog post into social media content too. 
7. Collaborate with Influencers 
No one can deny the fact that how much capability influencers hold in today's world. Find the influencer who has the same followers as you have. It may take time to find the right face but it will turn out to be the best online marketing for interior designer. Here is an example:
Influencers will showcase your work in a manner that you never thought of! Thus, influencer marketing will create a huge upgrade in your followers. After all, the people who are following the influencer hold some faith in them. And when they promote your business it creates a sense of personal recommendation. 
8. Claim on GMB 
Every business irrespective of small or big business wants to build a healthy relationship with its clients. Being on the Google platform will give your business credibility and let customers know about you. But keep the account updated such as phone number and location.
From the customer's side, it becomes easy to find your contact number. Further, your past clients can add a review which helps generate more leads. Reviews assist your business to get better in providing further services. Remember to keep yourself active in replying to both negative and positive feedback. 
9. PPC Advertising 
Pay Per Click or PPC advertising helps in targeting the audience wisely. Obviously, you can't do this with traditional marketing that's why digital marketing for interior designer suits you best. You get to learn about your audience by paying for the click on your ads by visitors. This is how you can analyze the growth of Interior designer PPC advertising.
You can do this by Google Ads or AdWords to display your designs and promote your business. Additionally, you can be specific by telling keywords to Google. Then your website will appear only when that keyword or phrase is searched. You can learn about interior designer PPC advertising here.
10. Don't overlook Email Marketing 
How to keep the connection intact between your previous clients? Here email marketing plays an important role. It brings traffic to your website if you use this digital marketing for interior designer nicely. You need to draft the email in such a way that compels users to open it. You can take the example of Zomato, their email marketing tricks are amazing. 
Provide valuable information through email and also the current packages you are offering. Also, mix up funny and valuable elements together to seek the attention of customers. Keep tracking the results to know which email strategy works best. 
Bottom Line
It's not wise to even give a second thought to digital marketing for interior designer. As it assists small businesses to grow at a faster rate with quality leads. All the mentioned interior design digital marketing strategies are worth incorporating to compete in this technological world. The time and money you will spend today will surely yield long-term results.
Besides, if you are looking for interior design digital marketing service, you may contact us. Digital Chaabi, a digital marketing company for interior design businesses develops effective strategies to make your business successful. We work in the areas of bringing in quality content, mobile-friendly websites, video content, and more. 
Frequently Asked Questions On Digital Marketing For Interior Designer 
1. How does digital marketing help interior designers?
It helps in reaching the target audience at a faster rate through various effective digital marketing strategies. Includes mobile-friendly websites, blogging, collaboration with influencers, email marketing, and others.
2. How to market interior design business online?
For online marketing for interior designer, you need to build a strong presence on the internet. Own an appealing website and create accounts on various social media platforms. Further, regular blog posting can be very advantageous to pull potential traffic. Also, you can consider digital marketing for interior design services.
3. How can I promote my interior business?
Promoting an interior business can be done through traditional as well as digital marketing. But in today's world, digital marketing for interior designer is more cost-effective and provides long-term results. Digital marketing includes creating a website, content creation, SEO, PPC advertising, social media marketing, and more. 
4. What are the different ways to promote interior design practices?
Claim on Google My Business for building trust.

Upload blogs, pictures, and videos on websites.

Collaborate with the same demographic influencers to reach your target audience.

Showcase previous projects and interior design to let customers decide best for them.

Use Google Ads service to target the audience with the help of keywords.
5. How do interior designers attract customers? 
Attracting customers is a big task when customers have a whirlpool of interior designers in their location. So, digital marketing for interior designer is used as a tool to attract potential customers at a faster rate. You need to validate your work, like showcase your previous successful projects on website. Build a strong portfolio, participate in various designer events, and collaborate with influencers.