Digital Chaabi maintains this blog to help you in marketing through one of the most used social media platforms i.e., Facebook. Facebook marketing helps you stay on the cutting edge of the business world. 
Facebook marketing for small business work like magic as it is budget-friendly and fits all types of in-house teams. Still, you are worried about making a Facebook presence for your business? 
We get it, sometimes marketers need numbers and comprehensive features on how this particular platform will be worth using. Facebook has almost 2.85 billion active users and according to Facebook, over 90 million small businesses are on this leading platform. 
Further, Facebook has a lot to offer such as Facebook Ads, Business pages, Facebook group, and Facebook marketplace. No doubt, this will help you to reach a large audience, brand awareness, engagement, and whatnot.
So, it makes complete sense why many of the marketers prefer Facebook marketing 2022. Now, let's take an in-depth look at 5 amazing tips to make a Facebook marketing strategy effective and to grow your business.
1. Set Right Goal And Strategy
This is the primary thing in any marketing and having a strategy to accomplish that goal. Your goals can be to increase brand awareness or increase engagement or increase sales and lead generation or increase web traffic or any other goals.
To make you understand how to plan strategy according to the goal here is an example, a sweets shop has a goal to increase sales and then their strategies may include:
Posting regularly. Considering the customer's review and posting it. 

Create FOMO (Fear of Missing Out).  By validating offers for limited-time, one-time offers. Therefore, it can double up the sales and create urgency.
Though strategy may be slightly different from the above-mentioned for another goal. But what matters is that the result should be fruitful. So keep track of your strategy and progress to make changes with time. 
2. Understand Your Audience
Know the people who like your page, so you can tailor your content and use strategies to meet their interests. For this, you use Facebook insights to know more about your audience.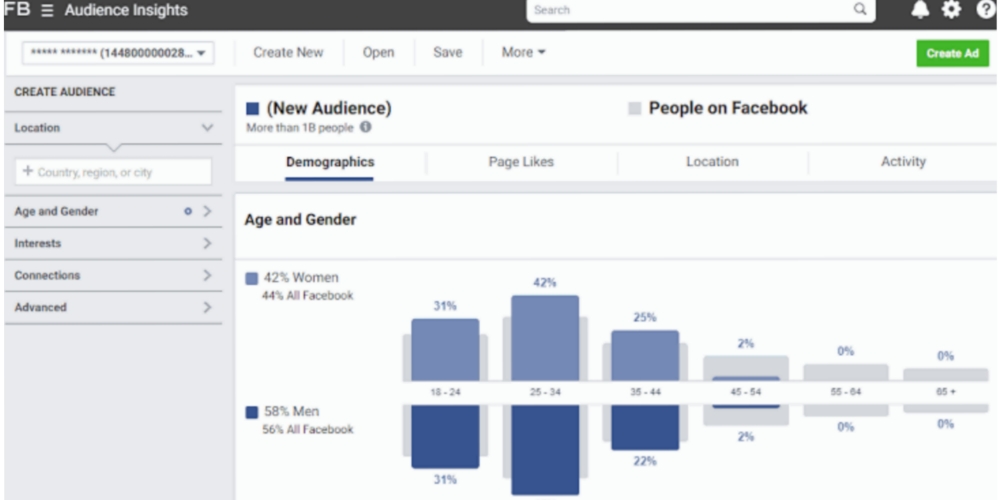 After knowing the customers, you get a clear picture that you should focus more on what category of audience. To know you can look into your Facebook page insights or take help of any suitable tool. 
3. Post and engage regularly
Social media marketing means no space for breaks. You need to update your audience frequently. A single pause will cost a lot to your business. 
However, the number of posts isn't always directly proportional to success. The content should be interesting and provide value.
The following strategy you can consider while engaging:
Post when your followers are most active. This will result in more reach on your content. Besides, you can use various tools to schedule your post.

Content should be audience-oriented. In other words, put your customers' interests first. 

Don't hesitate to put up a variety of content such as posting humorous content and getting involved in meme culture. 

Peek into insights and know which post is the most popular and get the highest engagement. 

Provide a voice to your followers through Call to Action (CTA) posts. 
You can peek into the Pepsi India Facebook page to know how you can incorporate those Facebook marketing strategies in yours. They keep posting visual content such as reels and interact with followers timely. 
4. Make Most Out Of Facebook Ads
The Facebook algorithm compels marketers to run paid Facebook ads. There are countless benefits of investing in Facebook ads. Further, it can be cost-effective and relevant according to your business goal. 
The best thing about Facebook marketing through advertising is that it helps in targeting specific audiences according to location, age, demographics, or interests. Simply target those that fit your business content.
You can choose from any of the Facebook ads: Carousel ads, Video ads, and Story ads. You can set a bid and budget by yourself. To know more about a Facebook marketing price click here.
Keep your Facebook ads creative, fresh, and compelling. Still in doubt about how to run ads campaigns? Consider taking help from a Facebook marketing expert such as Digital Chaabi. 
5. Keep Tracking The Progress
The last tip to grow the business through Facebook marketing strategy is to keep tracking the result. Thoroughly analyze the metrics or social ROI.
There are several tools to assist you in the tracking process such as Google Analytics. Determine content performance, spending in campaigns, reach, views page impressions, and so on.
The analytic report will give a clear picture to make some changes in your strategies to make them more goal-centric. 
FAQ
What is Facebook Marketing?
Facebook is a Social Media Platform that helps brands and businesses to promote themselves through organic posting as well as paid advertising which is termed as Facebook Marketing.
How to do Facebook marketing?
Facebook is a free tool for marketing, you just have to simply share photos, videos, any relevant content to make social media presence. However, according to the new algorithm of Facebook, paid advertisements work great in achieving your goal. So you can opt for it too. 
What is Facebook ads marketing?
Facebook ads offer you paid promotion of your brand or interaction with your targeted audiences. You can create posts for people who are more potent to become your customers. You can specify your audience or leave it broad as per your preference. 
How to become a Facebook marketing partner? 
The Facebook Marketing Program link is here. You can choose what partnership you want to apply for such as Adtech, Commerce, Creative Platform, and others. Then you will see the eligibility page and if you meet the requirements you can fill up the application.

How to do affiliate marketing on Facebook?
Follow these steps to do Affiliate marketing on Facebook:
Create a new Facebook page for your affiliate marketing business.

Engage with your audience regularly and promote your affiliate links on your Facebook page or groups.

Consider using Facebook ads for better results according to your budget.

Run contests to interact with the audience. Moreover, always mention affiliate disclosure about receiving a commission if users buy a product with the link on your Facebook page.
How to do Facebook marketing step by step? 
Set the right goal and strategy.

Understand your audience.

Create and post content regularly.

Engage with the audience and encourage them to involve in your post i.e., Call to Action

Run Facebook ads to reach your specific audience.

Track and analyze your progress.
Why is Facebook marketing important?
It allows marketers to reach a large audience through organic posting or paid advertisements. It helps to interact with users and other businesses easily. Most importantly, it helps you to know your competitor in your industry. 
How to do Facebook marketing for free?
To do Facebook marketing for free, optimize your page to attract users by creating appealing posts. Includes photos and short videos.
Give offers and discounts to attract users. Also, consider positive reviews and post them to boost brand reputation. Besides, it will be valuable for your brand or business. This way this free marketing tool helps businesses to grow organically.
How to learn Facebook marketing?
Various YouTube channels will make you understand Marketing through Facebook. However, Facebook offers free online courses to help in building marketing skills. You can choose the topic you want to learn on their page. So go and enroll now!
Why is Facebook good for marketing?
It is a free marketing tool that helps to create brand awareness and reach a large audience. After all, it is the most used social media platform in the world. Just set a goal, create a Facebook business page and post quality content, engage with consumers and analyze the result. 
Also, it offers paid advertising which is less expensive than other platform ads. Gradually, you will see your brand growth and increase visibility.