With changing times, finding a groom has become a matter of swiping right and left on mobile devices. As a result, we can observe several matrimonial websites that offer features to find a perfect partner. However, with the increase in such businesses, the competition has also increased so far that it's high time to look for solid strategies for digital marketing for matrimonial business.
For this, SEO for matrimonial website is the best way to scale up the business. Search engine optimization is the organic channel used for establishing strong online visibility and expanding website traffic. It is a must for every kind of business doesn't matter whether it is small or big. Similarly, to get traffic on matrimonial websites, you need to work hard on on-site and off-site optimization both 
If you are confused about how to start with SEO strategies, then we are here to guide you on it. You just need to trust the process and be patient while implementing as it takes time to show effective results. Now, let's get a closer look at SEO for matrimony website business.
1. Optimise the Matrimonial Website 
It is crucial to take care of websites to attract users and rank higher on search engines. Firstly, redesign the site if you feel that it is not good enough to pull the expected audience. Look at whether the navigation is easy or not and also how many web pages are there that are running smoothly. Broken links and pages create a bad impression on users so fix it soon! 
Most importantly, make a fully mobile responsive website as a larger portion of users have smartphones. Optimize the speed and screen ratio of the mobile version website. It will enhance the website's look, visibility and build the best user experience. If you find it a heavier task then it is better to look for a website designing service for matrimonial business.
2. Carrying Out Keyword Research 
Without keywords, it is impossible to succeed in doing SEO in matrimonial website. Keywords are words or phrases that help in targeting and identifying the potential audience. Here, your goal is to get more web traffic and make them register on your website. So, use the keywords that are relevant and suit your business well.
Tools like Google Keyword Planner can be very helpful to find the right keywords. For instance, use keywords like 'Best matrimonial website in India' or 'best Indian matrimonial website'. Keep note of search volume, difficulty level of keywords, and search intent while researching for keywords. Add these keywords into titles, headings, meta descriptions, and URLs to get quality leads. 
3. Publish Blogs 
This is the most important one in implementing SEO in matrimonial website as it not only drives traffic but compels the users to stay on it for a long time. Therefore, the content should be high-quality, original and engaging. Create blogs around the researched keywords and make them unique and relatable to attract the audience.
As you are producing content for matrimonial websites, so give weightage to relationship and marriage benefits, issues, problems etc. Keep the length of the blog appropriate and add images and videos to make it look appealing.  
4. Use Social Media Marketing for Matrimonial business 
Social media marketing for matrimonial business is a great way to build strong relationships as users can easily interact with you. Through creative and relatable posts you can build a good connection and generate more leads. You not only become more discoverable but also become a trustworthy business. Take the example of Shaadi.com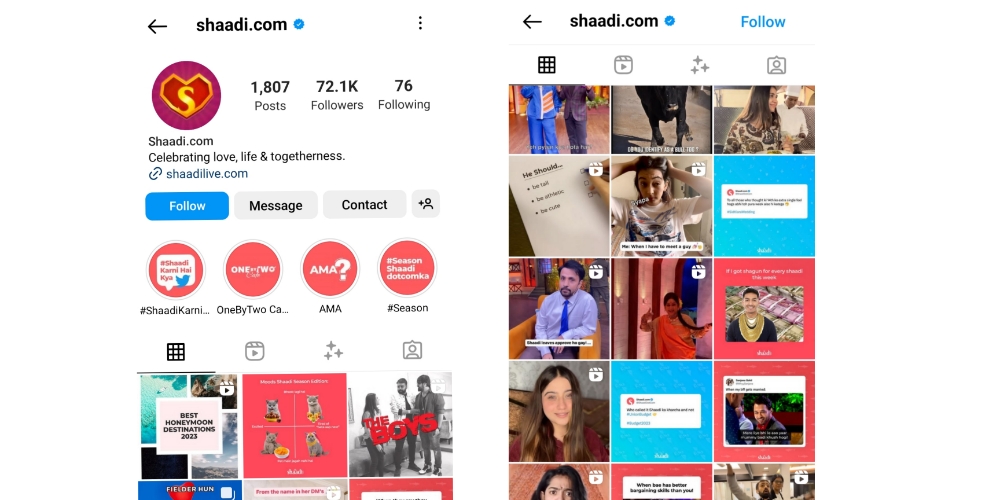 Posting on social media platforms like Facebook, Instagram, LinkedIn and more can turn out to be a beneficial strategy to improve SEO in matrimonial website. Add a link to a website blog on the relevant social media post to drive the audience. Besides, many runs paid ads for matrimonial business on Google or social media for faster results. 
5. Hire SEO Experts 
As we mentioned above, SEO in matrimonial websites requires time and patience, it does provide good results but at a slower rate. So, if you are aware that you can't make it a priority, then looking for a professional is a wiser decision. Because search engine optimization needs complete attention otherwise you will left behind of frequent changes in SEO techniques and Google algorithm.  
Investing in SEO in matrimonial website will surely do wonders for your business growth! Also, decide your budget well and if required increase the budget if any SEO service for matrimonial website is a bit expensive but provides effective services. As going for cheap SEO services and not getting any results is a 'waste of money'. So, go for quality services only!
Conclusion 
This was all for SEO in matrimonial website, if you genuinely implement these strategies and give enough time to it, then no one can stop you to scale up your business. The way a marriage needs commitment, time, focus and personalization. SEO also demands such things to make you successful in your industry. Don't hesitate to contact us in case of doubt! 
Frequently Asked Questions on SEO in Matrimonial Website 
1. How can I promote my matrimonial business?
Create an attractive matrimonial website

Optimising the site for SEO

Do keyword research 

Publish high-quality blogs

Add keywords in the title, headings, meta description, and URLs

Build links

Post regularly on social media platforms 
2. How to do SEO in matrimonial website?
Optimize the website speed 

Make sure to build a mobile-friendly website

Carry out keyword research

Create interactive and useful content

Use social media to increase engagement

Add links

Analyse the results
3. What are digital marketing strategies for a matrimonial website?
Creating an appealing and high-quality website

Content marketing for matrimonial business 

Focusing on SEO

Finding right keywords

Social media marketing

Running PPC ads

Adding internal and external links
4. What are the benefits of SEO in matrimonial website?
Increase website traffic

Build a strong online presence

People find you easily

Google ranks you higher

Help in building a good brand reputation

Generate more leads

Better ROI than traditional marketing 
5. How does social media for matrimonial website attract customers?
Update the social media profile

Post unique and interactive content

Talk about married couples

Upload memes, reels and stories on Instagram

Add the link of your blog to the relevant post