The online presence of your business can either make or break your entire enterprise. If you truly wish to outpace your competitors, you need to evolve along with the changing times. Numerous techniques promise detailed exposure, higher search engine rankings, and increased user engagement. 
In simple words, we can say that these techniques work as game-changers. You will achieve all of this when you implement the Silo structure. This is an exceedingly unique strategy that reorganizes the information on your website, providing an enhanced user experience, and helping you attain SEO excellence on the web. 
This overarching complete article will give detailed information into the intricacies of the Silo structure and demonstrate how to employ it to maximize your website's functionality.
Silo Structure Decoding: From Concept to Practice
A Silo is a sophisticated architectural approach that assists in categorizing and connecting content accurately. Imagine your website as an extensive repository of knowledge, with each section intricately linked to the others, representing distinct genres. Thanks to the Silo structure, content sections become distinct and easy to navigate, while also being comprehensible to search engines.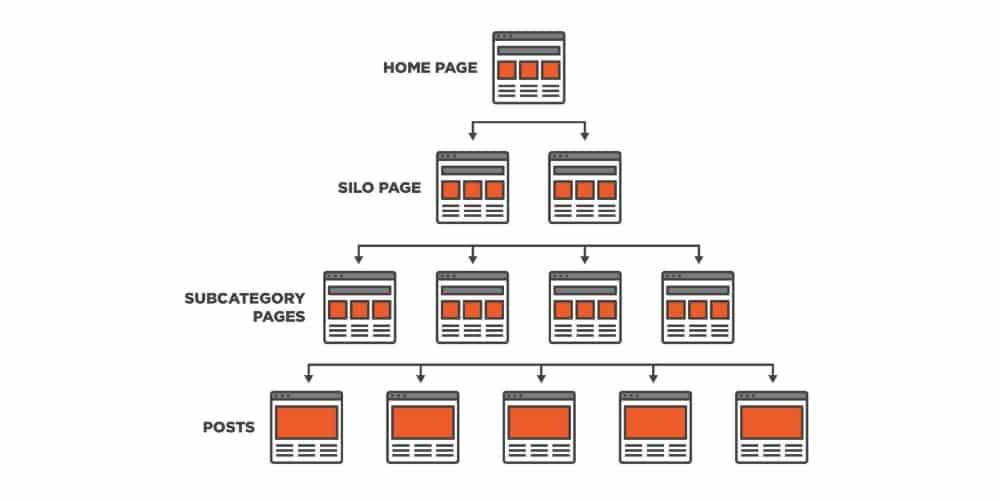 Example of Silo Structure 
You will understand the silo structure through the practical example. Consider a comprehensive website dedicated to the fascinating world of gastronomy. A variety of Silos, each dedicated to a distinct culinary tradition (Italian, Chinese, Mexican, and more), could be included in this haven. Within each Silo, users can find a wealth of content such as cooking methods, recipes, cultural anecdotes, and insights into ingredients. For more, click here to check what digital marketing strategies you can use if you own a restaurant.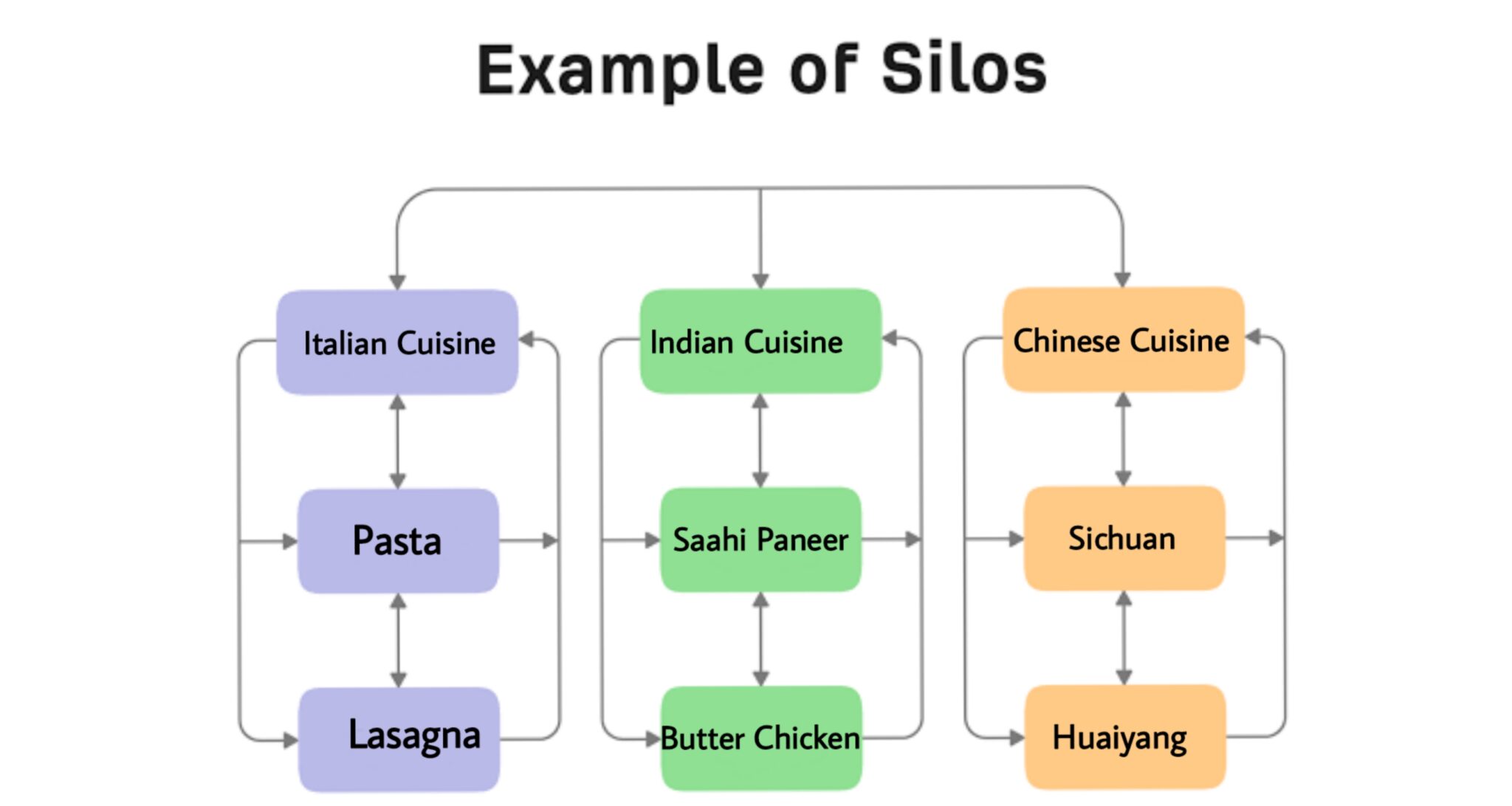 While each Silo's pages are interconnected, allowing uninterrupted navigation and encouraging continuity, the segregation of each Silo maintains focus on individual themes. This preserves the integrity of each topic and prevents content dilution. Here look at the difference between a silo structure and a flat structure.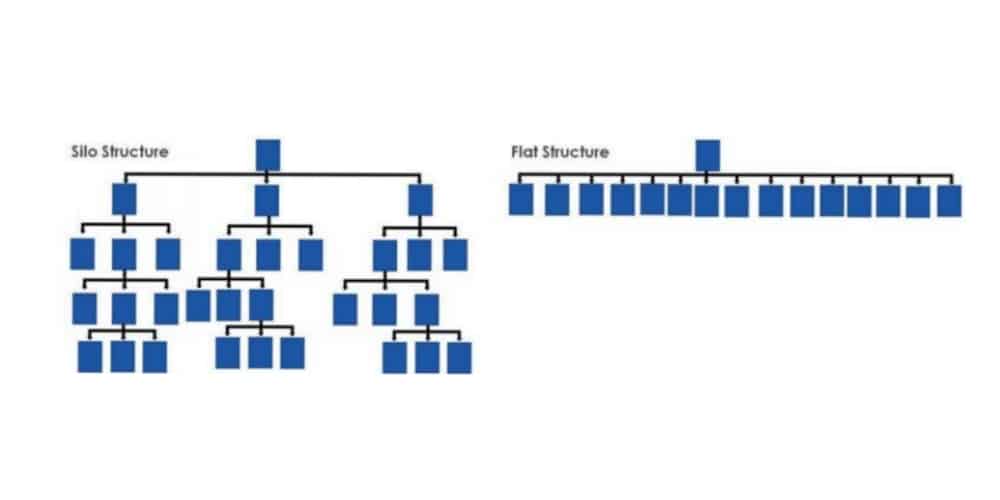 Increasing Your Search Rankings: Unveiling the SEO Magic
In the context of an SEO strategy, the accurate allure of the Silo structure becomes evident. When a search engine scurries through your website, its goal is to determine thematic and content significance. The Silo structure enhances the clear hierarchy and thematic organization of content; it improves this comprehension.
The interconnectedness within each Silo is recognized by search engines such as Google, which interprets them as authoritative sources on the particular subject matter. The recognition leads to a desired improvement in the search engine result pages for relevant queries.
For instance, suppose a user is searching for "Italian Pasta recipes." If your employees use a well-structured Silo approach, the dedicated Italian cuisine section would likely emerge at the top of the search engine results. This result stems from the search engine's recognition of Silo's specialized content, aligning precisely and perfectly with the user's search intent.
Furthermore, the tasks assigned to your Silos extend throughout your website more attractively. There are more possibilities that users will explore your site further when they delve into a Silo and discover a variety of related information. This will help you to reduce your bounce rates and signal to search engines that your content is valuable and engaging.
A Better User Experience: Navigating with Ease
Apart from its SEO process, the Silo structure intensifies/enhances user exposure to your website. This plays a vital role in any successful online platform. A website that is meticulously organized is similar to strolling along a well-tended path in a sprawling garden. Anyone can quickly access the desired content, fostering prolonged engagement and reducing bounce rates.
The goal of creating this positive user experience is not solely about retaining visitors to your sites; it's about creating a genuine connection between your brand and your audience. Users who experience seamless navigation are more likely to explore beyond their initial intent and discover the information they didn't know they needed. This solidifies your website as a dependable and comprehensive resource.
Mastering Silo Structure Implementation: Your Step-by-Step Guide
With the Silo structure gaining recognition, let's embark on the journey of implementation. Though the idea might appear complex, the tactical steps are simple:
1. Identify the main themes
The first step is to find the key topics or categories that best express the essence of your website. These themes should be closely related to the preferences and search trends of your intended audience.
2. Create Landing Pages for Silos
Creating unique landing pages for each main theme. These pages serve as a comprehensive overview of the content stored in the Silos and act as entry points to the Silos.
3. Develop Pages with Silo Content
Within the main pages of each Silo, create subpages that delve into specific subtopics. Visitors should be engaged by the depth and relevance of these content-rich pages while obtaining information.
4. Establish Internal Linking
The most important component of a Silo structure is internal linking. By building links between the pages of the Silo, you highlight the hierarchical structure and guide readers through the content journey smoothly.
5. Enhance Navigation Design
A user-friendly navigation design must be simple to use. It should make the exploration of different Silos easier while ensuring a smooth and interesting user experience. The quality of the navigation will be enhanced by adding intuitive menus, breadcrumb navigation, and search capabilities.
6. Optimize Keywords
Optimize the content of each Silo meticulously using relevant long-tail and short-tail keywords. The optimization enhances the visibility of each Silo in search engine results, subsequently bolstering its thematic authority.
Final Insights: Crafting a Future of Digital Excellence
In the relentless pursuit of online excellence, adopting tactics that improve both user interactions and SEO performance is crucial. With a Silo structure, you can organize content in a way that enhances user satisfaction while also sending a strong signal to search engines about the organized richness of your content.
However, it's important to recognize that while the Silo structure is a potent tool, it's not a standalone remedy. Your website will reach its digital zenith through the interplay of a Silo structure, captivating content creation, effective keyword targeting, and other SEO best practices. 
As you set out on the path to harness the power of the silo structure, keep in mind that a strategic organization may maximize your website's potential in the dynamic world of digital marketing. 
Every Silo embodies and represents your dedication to user experience, your commitment to producing valuable content, and your aspiration to stand out in the crowded online landscape. By embracing the Silo structure, you're influencing the future of digital excellence, not just web pages.
Frequently Asked Questions on Silo Structure
1 What is the definition of silo structure?
Silo is a sophisticated architectural approach that assists in categorizing and connecting content accurately. Through Silo structure, content sections become distinct and easy to navigate, while also being comprehensible to search engines. In other words, content divides into distinct sections on the website while creating a Silo structure. 
2. Why is silo structure important?
Basically, it enhances the visibility of the website on the search engine and consequently opens a scope of good ranking on Google. A good silo structure is maintained by grouping content thematically and targeting keywords and also doing relevant internal linking. 
3. What is an example of a silo website structure?
For example, a website dealing with digital marketing may have multiple categories like SEO, social media marketing, PPC marketing and content marketing. And these groupings and categories are called silos. A live example is us- Digital Chaabi.
4. How do you make a silo structure?
Search your relevant topic according to your niche

Divide or categorise topics and make a list of it

Create landing pages for silos

Establish internal linking

Develop an appealing navigation design

Optimize keywords