As the world is transforming into a digitally connected world, the e-commerce industry continues to grow in the rapid space. With this ever-changing world of e-commerce, it's necessary to stay ahead of the world by understanding the latest trends. The rapidly changing industry of e-commerce makes it tough to know which strategies work best. To deal with all these challenges, here we are revealing the top E-commerce Trends 2023 that will shape the success of your online e-commerce store. Let's discover some ways to improve the efficiency of your online shopping experience.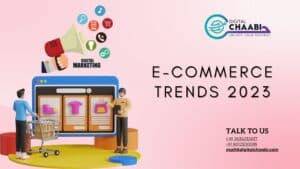 E-commerce trends & strategies you must know to stay ahead in the digital marketplace
Artificial intelligence for personalization
It stimulates human intelligence using big data & computer science. Business experts can use AI to grab consumer behavior, which results in accurate & valuable information. Organizations can implement AI in personalization, which is all about measuring the user experience. The global software personalization market is expected to grow by over $5 billion by 2023.
Based on the survey, it is found that almost 80% of the customers love to take services from the same company if the business offers a personalized shopping experience. Starbucks is one of the biggest examples of an e-commerce business that is offering top-notch personalization to its customers by combining machine learning & AI.
In the last year, 2022, 60% of the Starbucks drinks were customized. With the help of AI for personalization, Starbucks successfully tracks customer data on the mobile application to generate eye-catching offers in real time.
Through this E-commerce Customer Retention Strategies, they track the user's preferences, past purchases, user activities, and location to send personalized messages as push notifications. Overall, the scope of AI in the e-commerce market is strong, and it is projected to grow $407 billion by 2027. This is why 91.5% of companies invest in this software.
Virtual & Augmented Reality
The market of AR/VR is growing at a CAGR of 41.1%, which is expected to grow by $856.2 billion by 2031. VR gives the simulated experience that brings users into the real-computer-generated environment. Similarly, AR integrates the physical & real world through computer-generated sound and visuals. Multiple brands are adopting VR/AR technologies to offer an immersive shopping experience.
Based on the E-commerce Trends 2023 survey, it is found that business that uses AR has 71% more customers than any other business. Another study reveals businesses using AR/VR technologies are gaining a 94% higher conversion rate. The biggest example is IKEA, which use this technology to let their customers view digitally reproduced 3D product pictures from their home.
Customer relationship management
CRM includes strategies & tools that help e-commerce businesses manage customer interaction. Utilizing a great CRM strategy is necessary since 92% of the users would abandon a service after multiple negative interactions. CRM allows business owners to understand their customer behavior and preferences. It helps to strengthen the relationship & successfully build a loyal customer base. The CRM market size is expected to grow to around $128 billion by 2028.
In addition, 91% of businesses having 10 or more employees use CRM for managing the conversations of customers. 75% of users love to reach the e-commerce companies that use CRM systems. This Influencer Marketing in E-commerce program lets the users earn some rewards and loyalty offers that ultimately improve the retention rate of any business. The biggest live example is the North Face's e-commerce business, which improves its customer engagement by investing in CRM tools.
You can lose your trusted clients if your site doesn't accept their preferred payment methods. If you are running an e-commerce business, consider offering alternative payment options to give a boost to your business. People are mostly using their mobile devices, so your site must have mobile payment solutions to meet the top e-commerce trends worldwide. In the year 2021, mobile wallets accounted for 49% of global e-commerce transactions and are expected to grow to 53% by 2025. For example, most of the people in South Korea choose credit cards over any other payment options.
Similarly, people from Thailand prefer to use bank transfers. Choose a technology like BNPL payment method that is accessible to multiple customers. Through this E-commerce Automation Tools, e-commerce business can enhance retail sales & minimizes the chances of abandonment rate of the cart.
With the help of AI tools, customers can now use this feature. There are lots of AI powdered site search system that uses NLP and machine learning to determine the intent of search query and provide the most relevant sites. Through Visual search, your site allows users to conduct searches through images. This technology is forecasted to grow in a CAGR of 17.5% which anticipates over $32 million up to 2028. You can use an ASOS application that utilizes the visual searches through Style Match functionality. This application allows users to upload a picture of an item that they want to buy online and generate a list of similar products. Business owners can opt for this trend.
Similarly, the voice search allows people to avoid the typing hassle in the search bar and saves time. 47% of the users use this trend to make the online purchase. The voice searching market value is estimated at a growth CAGR rate of 23.7% by 2029. To utilize this AI in E-commerce trend, execute the proper keyword strategy.
Over the last few years, users have become increasingly used to the convenience of online shopping. It is one of the leading e-commerce trends because it offers practical solutions to deliver the consumer's recurring experience. Since it has multiple benefits, the subscription model market is growing exponentially, with 71% CAGR growth by 2028. Multiple products come as subscriptions, starting from monthly clothing deliveries to streaming services.
HelloFresh is one of the best examples; which is in trend and has attracted over 7 million customers worldwide. 70 % of the businesses agreed that the subscription model plays a crucial role in the growth of e-commerce business. By providing small yet necessary information to the customers, you can gain their trust, for example, delayed deliveries, lower price rates, etc.
Opt for free & fast delivery options

.
Consumers expect fast delivery of their online purchases. Based on the research, 62% of online shoppers expect free shipping orders to arrive within 3 business days. In addition, affordable, speed & free shipping is another e-commerce trend the business owner should look for. In the latest consumer trends report by Jungle Scout, it is revealed that 72% of US online shoppers seek products that have the lowest shipping cost.
Business owners should strategize Personalized E-commerce Recommendations for efficient shipping systems to fulfill the user's expectations. The biggest example is Amazon's e-commerce shopping platform. Both the free & fast delivery facilities will continue to influence the e-commerce future. If you can't offer advanced warehousing and faster deliveries, free shipping is a worthy solution.
Conclusion
Following the above-trending E-commerce Trends 2023 doesn't mean copying others' business strategies or implementing new e-commerce technologies. By following the above techniques, you can enhance the shopping experience of your users.
Some trends might be applicable to specific business models; that's why it is necessary to understand all the pros and cons of a business to make informed decisions and ensure success. We hope this blog will keep you up with all the future e-commerce trends.
Also Read this Blogs:-
Elevate Your Imagination With The Best Generative AI Tools
Strategies and Services Revealed What SEO Company in India Really Do
Can Artificial Intelligence replace Human Intelligence? Exploring boundaries of human vs artificial intelligence
Importance of SEO in Matrimonial Website | Digital Marketing for Matrimonial Business
How to do SEO for Manufacturing Companies and Increase Sales